The ultimate Hello Kitty Blog for Hello Kitty and Sanrio Fans looking for Hello Kitty pictures, images, videos, news and information on all things Hello Kitty.
Subscribe to Our Blog's RSS Feed!
When it comes to buying any type of collectible, the best idea is to buy what YOU like, not what costs the most, what everyone else wants, or even what is predicted to go up in value. The value of a Hello Kitty collectible should be the "heart value" to the Hello Kitty fan and collector – what you love and makes you happy.
There are so many different Hello Kitty collectibles out there, from lunch boxes to sweatshirts to jewelry and handbags, so there's something for every Hello Kitty fan. But what about the rare items? The exotic, one-of-a-kind Hello Kitty finds and treasures?
First, a Little History
Hello Kitty was designed by the artist Yuko Shimizu for the Sanrio Company in 1974 to market to the emerging kawaii (cuteness) culture. She started out as Kitty White, a Japanese bobtail with a red bow and blue coveralls. Her image first appeared on a coin purse in 1975 and was an instantaneous hit. She was introduced in the U.S. the following year, where she has been gaining in popularity ever since.
In order to make Kitty White even more appealing, she was given a backstory. Her name was changed to Hello Kitty to attach the character to Sanrio's company image of social communication. At the time, everything foreign – especially British – was popular, so the creators decided to make her home near London, where she lived with her father and mother, George and Mary, and her twin sister, Mimmy. As time went on, we learned more about her friends and family, with her circle of friends expanding each year as Sanrio introduced us to new playmates. Hello Kitty has even inspired a new word, kitira, which means a devoted follower of Hello Kitty.
Hello Kitty Couture
Due to Hello Kitty's popularity, we see her on many celebrities, including:
Lady Gaga in the famous dress she wore for Hello Kitty's 40th birthday
Katy Perry's Hello Kitty corset by the Blondes
Avril Lavigne and her Hello Kitty skateboard
Miley Cyrus and her Hello Kitty handbag
Paris Hilton in her J'adore Hello Kitty t-shirt
Miranda Cosgrove
Pam Anderson
Mariah Carrey
Kaley Cuoco, who wore Hello Kitty boxers on an episode of Big Bang Theory
Lady Gaga's dress even inspired a Barbie Hello Kitty dress!
Hello Kitty clothing is the easiest way to proclaim your adoration of Hello Kitty to the world! Finding the right item and the most chic is exhilarating! How about Hello Kitty Louboutins? Tres chic and so kawaii!
Or how about a little black dress? Isn't this super cute?
Find your favorite kawaii Hello Kitty apparel and rock it like a kitara!
Hello Kitty Handbags, Purses and Clutches
The first item that Sanrio made with Hello Kitty on it was a coin purse, back in 1975. Since then, you're more likely to find handbags, clutches and even backpacks sporting Hello Kitty. The sheer diversity of handbags featuring Hello Kitty is staggering. Buy what fits your needs and what looks kawaii to you! Amazon has many different purses and totes to choose from for every budget.
For something a bit more exotic, check out this unique little satchel:
If you're hoping to buy vintage Hello Kitty handbags, Ebay is probably your best bet, especially for vintage coin purses, although finding the original coin purse from 1975, shown here, will be nigh on impossible.

You can still get something kawaii like this vintage suitcase: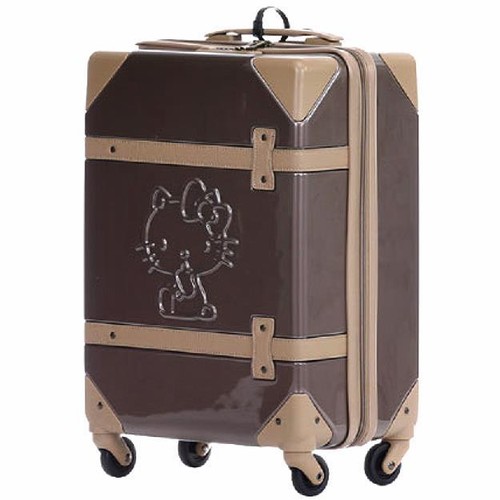 Big, small, tote, clutch: Hello Kitty comes in all styles!
Hello Kitty Bling
Jewelry is a great way to show off your style and tastes, and Hello Kitty Jewelry is the best! You can find anything from rhinestone baubles to Swarovski encrusted pins, earrings and necklaces. Some of the best Hello Kitty jewelry can be found on Amazon. This one's really kawaii and the flower is made of Swarovski crystals!
The best Swarovski, however are the figurines! Here is a vintage Hello Kitty pose, and a more modern pose:
There are so many beautiful and eminently collectible Swarovski crystal Hello Kitty figurines.There's something for every ocassion!
If you would love to get the most expensive and one-of-a-kind Hello Kitty figurine, try this little beauty. She is encrusted all over with Swarovski crystals and is super kawaii!
These are really cute Hello Kitty earrings! They aren't rare yet, but still adorable!
Here is a beautiful Kimora Lee Hello Kitty diamond ring:
For a more understated look, yet still super kawaii, check out this cute little bow ring. It was made in Japan especially for Sanrio.
Whatever item you decide on, there is always room for more Hello Kitty Jewelry and bling!
Other Supercute Hello Kitty Collectibles
Everyone needs a computer or laptop, right? And if you're a Hello Kitty fan, you'll want to "Kitty-fy" it. Most people think Hello Kitty stickers, but if you want to go all-out check out this laptop! It's a LaVie G laptop with precision-cut Swarovski crystals and a 120gbyte hard drive and 2gbyte of RAM. Even the mouse is covered in Hello Kitty crystals!
Here's a rare Hello Kitty plush doll – complete with kimono! Very kawaii!
Even rarer is this one with an added fan. Super kawaii!
These dolls are just super cute and a must-have for the discerning kitara!
If you need to entertain your children and don't want them watching too much television, how about a Hello Kitty robot? Even its whiskers light up! This cute robot boasts technological advances such as face recognition and voice recognition, and is programmed to chat with your child as a friend or family member. It can even play a guessing game. What a wonderful way to keep your children entertained!
This is just a small sampling of the wonderful, exotic and rare Hello Kitty items that are available! All you have to do is go online and you will find amazing super kawaii Hello Kitty collectibles! You can collect everything Hello Kitty, or you can just get a few key pieces to show your kitara side!